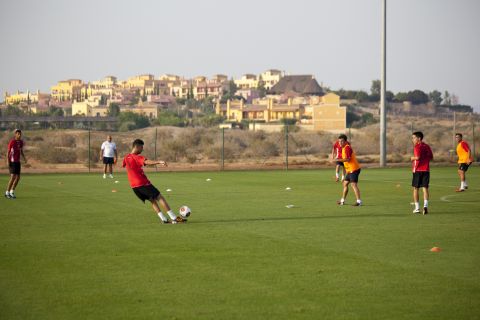 Almeria 'B' Squad to return to Desert Springs Football Academy for Pre-Season Training
With a 17th place finish in the Primera División (First Division) last season, Union Deportiva Almeria (Almeria Football Club) 'B' squad will return to Desert Springs Resort for their annual pre-season training camp between Monday 4th – Thursday 7th August.
A squad of 24 players and six officials from Almeria Football Club will reside at the resort for a 3-day training camp to benefit from the facilities of the renowned Football Academy established at Desert Springs.
During their stay at Desert Springs the Almeria players will benefit from training and coaching on the first international-size quality grass pitch in Almeria complete with; floodlights, shower and changing facilities, a referee changing room, a goal-keeper training and five-a-side games area, and a hard standing area which provides outside space for facilities such as a free weights gym, stretching mats and a medical area.
Simon Coaker, sales and marketing manager at Desert Springs commented:

"In 2012 Almeria Football Club regained their promotion to the First Division for the 2013/14 season and for the second consecutive year held their Pre-Season training camp at Desert Springs.
Speaking of the teams experience at Desert Springs last year, Almeria Football Club Manager, Manuel Mendez and Head Coach Juna Carlos Cintas Góngora remarked:
"The football pitch at Desert Springs is 6 star; we will not play on a pitch of better quality throughout the season. Desert Springs Resort is a great location for a training camp. We have held training camps at other locations and all agree, including the players, that Desert Springs is of better quality!"
Spectators will also be welcome to visit the Football Academy to watch the training sessions.
During Football Training Camps, players can make full use of the 18-hole Indiana golf course and enjoy opportunities to swim, play tennis and use the gymnasium, trim trail, jogging tracks, paddle tennis and beach volley ball courts. They also have access to the resort's Private Reserve which incorporates a spa, private sauna and jacuzzi suite, personal fitness workout room, games room with bar, and a home cinema.
Accommodation for the players and officials is in some of the privately owned apartments normally reserved for holidays and short breaks at Desert Springs.
The resort's executive chef will be on hand to cater for the special dietary requirements of individual players dining in the resort's two restaurants – the award-winning El Torrente and the Croc Restaurant, part of the family-friendly Crocodile Club.