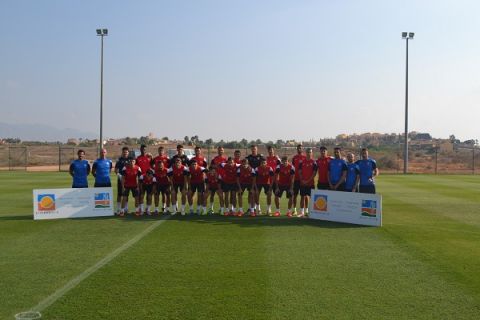 With a 3rd place finish in the Segunda División 'B' last season, Union Deportiva Almeria (Almeria Football Club) 'B' squad returned to Desert Springs Resort for their annual pre-season training camp between Thursday 30th July- Saturday 1st August.
A squad of twenty-two (22) players and six (6) officials from Almería Football Club spent three days at the resort, during which time the players benefited from training on the Football Academies world-class international-size grass pitch.
An exterior hard standing area provided space for the use of facilities such as a free weights gym, stretching mats and a medical area. The players also made use of a specifically designed grass area for goalkeeper training and five-a-side games.
Speaking of the team's experience at Desert Springs, Almeria Football Club Head Coach, Miguel Rivera Mendez remarked:
"We have returned because of the friendliness of the staff and their service, the comfort of the apartments and facilities, and of course, the magnificent conditions of the football pitch and quality of food!"
Commenting on the quality of the football pitch, UD Almeria Goalkeeping coach, Ricardo Molina Miras remarked;
"The joy of a great save on the grass of Desert Springs! Thank you for everything"
The staff and players also made use of the Sierra Sports Club and the gym. Eduardo Frapolli, Strength and Conditioning Coach commented:
"Ideal facilities to recharge the batteries for the season. It's been an absolute pleasure! Thank you very much!"
Yeray Gómez, who played last season with the first team, visiting some of the best stadiums in Spain, commented:
"You don't find this quality of grass in most of the football pitches in La Liga!"
UD Almeria player Carlos Pérez remarked about his experience at Desert Springs:
"The football pitch is in immaculate condition, the food is great and the sports facilities suit our needs perfectly"