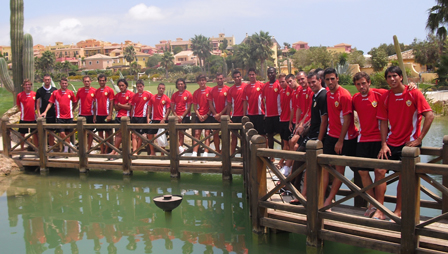 UD Almería Team 2011
A squad of 24 players and twelve officials from Almeria Football Club – which currently competes in Liga Adelante (Spanish Division Two) followed in the footsteps of other teams such as Byrne, Honefoss and Shrewsbury Town Football Club, by enjoying the facilities of the Football Academy established at Desert Springs for their pre-season training camp between Monday 18th – Saturday 30th July.
The Club's Manager, Lucas Alcaraz, was so enthusiastic about the caliber of the resort, its football pitch, other sports facilities, restaurants, accommodation and staff, that he has pledged for the team to return.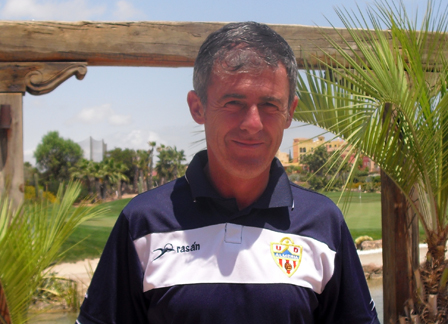 UD Almería Manager, Lucas Alcaraz
Speaking of the teams experience at Desert Springs, Lucas Alcaraz remarked:
"The conditions of the Football Pitch are absolutely superb and ideal for training. Moreover, our preferred specifications have been accommodated on a daily basis.
When a professional football team travels for a Pre-Season Training Camp, there are always small inconveniences, schedule changes and last minute problems that are disruptive and unfortunately cannot be resolved.
In my 28-year football career, Desert Springs Resort has been the only venue where all aspects have run smoothly, and requests have been accommodated. Thanks to their facilities and professional staff, we have been able to fully concentrate on the Camp."
During their thirteen-night stay, the Almeria players and officials were accommodated in some of the privately-owned apartments normally reserved for holidays and short breaks at Desert Springs and the resort's executive chef was on hand to cater for the special dietary requirements of individual players dining in the resort's two restaurants – the award-winning El Torrente and the Croc Restaurant, part of the family-friendly Crocodile Club.
Simon Coaker, sales and marketing manager at Desert Springs, remarked:
"Already well-known as a resort specializing in golf and family holidays, Desert Springs has been rapidly gaining, not only popularity, but also an excellent reputation as a centre for both warm-weather and pre-season football training within the footballing community. It is clear to see that with feed back such as this we can only expect to be host to more Club's in the near future."
For further information contact: The Almanzora Group Ltd
Email: tag@almanzora.co.uk
Telephone: +44 (0) 1242 680 299