An Exclusive New Investment Opportunity From Desert Springs S.L.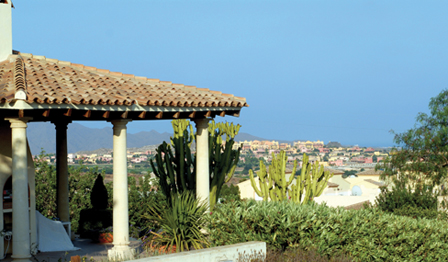 The view of Desert Springs, with the sea beyond, which will be enjoyed by the occupiers of properties built on the 16 building parcels available for sale at La Ribina.
Desert Springs S.L. has released 16 building parcels for sale from its separate landholding at La Ribina, just by the western boundary of the resort, with easy access both to the resort and to the road from Vera to Las Cunas.
The building parcels at La Ribina are unique as they are the only ones for sale in the immediate vicinity of Desert Springs. The parcels range in size from 705 sq m to 1,322 sq m and are available at prices starting at 125,000.00 € (excluding VAT at 16 per cent) with verifiable planning consent and building conditions, secondary infrastructure services in place at the boundary of each parcel and direct access to all facilities at Desert Springs.
The Parcels available at La Ribina.
(Grey area represents the proposed second Golf Course at Desert Springs, "The Colrado")
Resort Non-Resident Membership at Desert Springs, free of joining fees, for the purchaser of each parcel or his nominee, is included by the company. This in turn includes the right to nominate an additional Partner and a Junior Non-Resident and Partner Member, also free of Joining Fees.
The whole golf package has a current value of approximately 32,000.00 € and is subject only to receipt of application and payment of the annual subscriptions not later than 4 weeks following the signing of the deeds of the land parcel. The Desert Springs Golf Club, for its part, offers the Resort Non-Resident Partner members a discount of 15% in the annual subscriptions.
Almanazora Bay Group, Sales and Marketing Manager, Simon Coaker, said:
"Recent group sales, now totaling over €5,000,000, have marked a significant turning point in the market, showing that the wheel has turned for better quality, more individual, properties, in new and unspoilt 'upwardly mobile' areas, such as the Almanzora region. Desert Springs meets all the criteria for future growth and in today's very restrictive planning world, especially locally, these parcels offer the best possible potential returns on investment.
If you wish to secure a parcel of land that will escalate in value as Desert Springs continues to develop and the next upturn in the market gathers momentum – or if you want the chance to build a property to your own bespoke design and at the same time want benefit from the link to Desert Springs, then this is the perfect opportunity."
The Sales Brochure can be seen and/or downloaded from our website by clicking here.
For further information contact: The Sales Team
Email: playas@almanzora.com
Telephone: +34 950 467 104