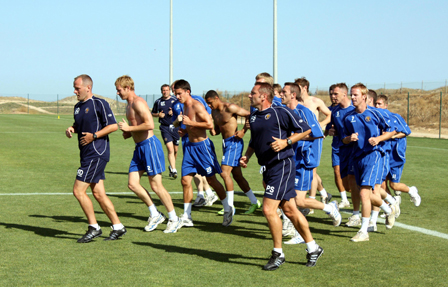 Shrewsbury Town Football Club training at Desert Springs
Shrewsbury Town Football Club were so pleased with the results of pre-season warm-weather training for their players at Desert Springs in Spain that they have returned for the second year running – and hope to go back next year as well.
According to the manager of the Coca-Cola Football League Two club, Paul Simpson who has arranged pre-season training in Germany, Norway and Sweden for other clubs in the past, the facilities at Desert Springs are the best.
"The resort has exactly what we need," he said. "In addition to the fantastic surface of the first international-size quality grass pitch in the Almeria area of Spain, the warm weather is excellent for pre-season training and the opportunity for 19 players and their coaches to spend six days living together strengthens the bond between them."
Mr Simpson said it was a shrewd move to take The Shrews to Desert Springs last year: "When we returned, the new season got off to a flying start with three consecutive straight wins. That's why we went back this year."
Already well-known as a resort specialising in family holidays, Desert Springs is gaining popularity as a centre for warm-weather training for golfers and cricketers, as well as footballers.
ADDITIONAL DETAILS
The football pitch at Desert Springs – Europe's only international award-winning luxury family resort and championship desert golf course – was inaugurated by Sir Bobby Charlton and Sir Geoff Hurst in 2004. Since then floodlights, shower and changing facilities and a referee changing room have been added.
A new hard standing area provides outside space for facilities such as a free weights gym, stretching mats and a medical area and a new grassed area has been added for goalkeeper training and five-a-side games.
A wide range of resort facilities are available for use by clubs which opt for pre-season training at Desert Springs. Players can make full use of the 18-hole Indiana golf course and enjoy opportunities to swim, play tennis and use the gymnasium, trim trail, jogging tracks, paddle tennis and beach volley ball courts.
They also have access to the resort's Private Reserve which incorporates a spa, private sauna and jacuzzi suite, personal fitness workout room, games room with bar, and a home cinema.
Accommodation for the players is in the privately-owned apartments, cottages and villas which are available for holidays and short breaks at Desert Springs.
If required the resort's executive chef can be on hand to cater for the special dietary requirements of individual players dining in the resort's two restaurants – the award-winning El Torrente and the Croc Restaurant, part of the family-friendly Crocodile Club.
For further information contact: The Almanzora Group
Email: tag@almanzora.co.uk
Telephone: +44 (0) 1242 680 299