Seventy one (71) members of the Whitgift School Cricket Squad, accompanied by ten (10) members of staff and coaches are now back in England having completed a successful 4-day pre-season training camp between Tuesday 3rd – Saturday 7th April at Desert Springs Resort, Europe's only international award-winning luxury family resort and championship desert golf course with its very own dedicated Cricket Ground & Academy, in the Almanzora region of Almeria, Andalucía in south-east Spain.
Neil Kendrick, Whitgift School Head of Cricket Performance remarked of Desert Springs Resort and the training camp;
"This is the second time that we have brought out over 70 junior cricketers to Desert Springs.
Yet again the staff at the resort have gone above and beyond to provide a fantastic cricketing experience.
The addition of the main Oval is the icing on the cake and has meant that we have been able to deliver a true challenging match environment, sincere thanks to all."
"The boys have enjoyed sensational facilities and the opportunity to train on first-class wickets and the food and service has both been great as always."
"The boys have thoroughly enjoyed themselves with outstanding facilities and accommodation. A fantastic experience from start to finish."
Those were the views of Whitgift School Cricket coaches James McCann and Ben Morris, respectively.
The focus of the training camp was to provide an opportunity for the players to both work seriously on their batting and bowling and fielding skills as well as their fitness levels, through a specific and carefully planned programme, to ensure that the players are in the best possible shape leading up to the commencement of the new season.
Grass net practice, both bowling and batting as well as strength and conditioning work, running, speed and agility work took place at the Cricket Academy.
The squad also benefitted from 3-days use of the new Cricket Ground at Desert Springs with a varied programme that incorporated specific practice sessions involving; throw downs, slip catch training and fielding exercises as well as match simulations and matches.
A few of the players views of their experience at Desert Springs Resort during the training camp were;
Matthew Roberts (aged 13 yrs.); "The resort is amazing. The cricket ground enabled us to play excellent cricket!"
Rahul Tangirula (ages 11 yrs.); "An amazing cricket facility. It has been great to get away to a place like this for pre-season. The food and accommodation were also first-class."
Jaime Player (aged 12 yrs.); "Incredible! Everything I could have wished for for this tour. The food, service and facilities were amazing!"
To view the video of the Desert Springs Cricket Ground & Academy Click Here
The players and coaches were accommodated in some of the privately-owned Apartments and Townhouses normally reserved for holidays and short breaks at Desert Springs and the resort's executive chef was on hand to cater for the special dietary requirements of individual players at the 'Crocodile Club' Restaurant.
For further information:
Kirk Lovell
+34 647 414 899
kl@almanzora.com

Whitgift School Pre-Season Winter Training Camp at Desert Springs Resort
'Nets Practice Session' at the Desert Springs Cricket Academy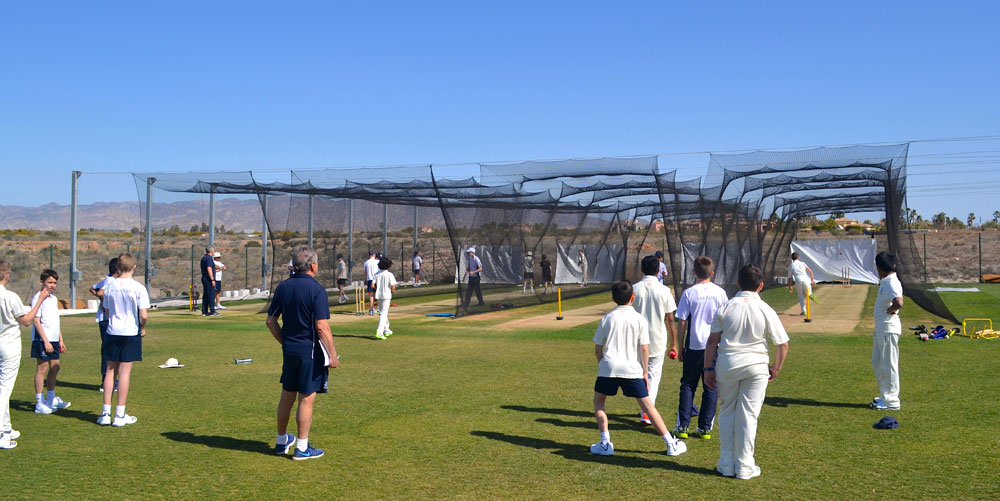 'Nets Practice Session' at the Desert Springs Cricket Academy
'Match Day at the Desert Springs Cricket Ground'