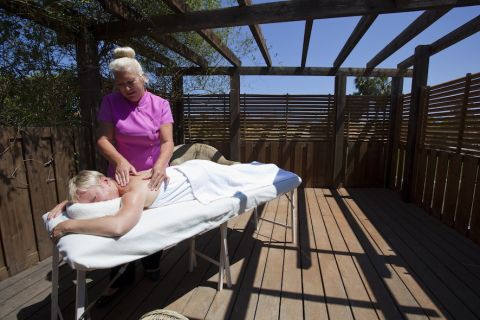 We are delighted to offer a new outdoor massage service. Now you can enjoy a massage in the private gazebo (weather permitting) situated in the tranquil Zen Garden at The Day Spa @ Desert Springs. Lull your senses, whilst experiencing your relaxing massage, with the sounds of nature and gentle caress of a lazy breeze.
Karen, our award winning therapist, tailor makes the massage therapy sessions to suit your individual needs thereby improving circulation and flexibility while easing tension. Massage relaxes the entire body by the use of gliding strokes in the direction of blood returning to the heart. Benefits of massage also include:
Relieves stress
Encourages relaxation
Helps manage pain
Improves flexibility
Improves range of motion
Relaxes muscles
Lowers blood pressure
Your tailor made massage session awaits. Request an appointment today. For further information and to book call Karen.
Tel: +34 610 944 494
Email: kk@almanzora.com
www.almanzora.com