NEW YEAR´S EVE MIXED PAIRS STABLEFORD : 31/12/2019
An impressive 28 Pairs (56 players) competed for the final event of the year on this New Years eve 2019! It was a cold start this winter morning which luckily warmed up as the day went on. We had several competitors in todays entry list with low handicaps,  which proved to be decisive,  as the winners this year were the Formidable partnership of the Mckinnes brothers, Liam and Charlie with 41 points! Tom and Lynn Shutler were hot on their heels with an impressive 39 points!
We welcomed several local guests today , and their Winning Category was won by Jose Ramon Bonilla & Andrea Holubdua with a spectacular 43 Points!
Great to see a busy field for the Final event of the year, well done to all who Participated!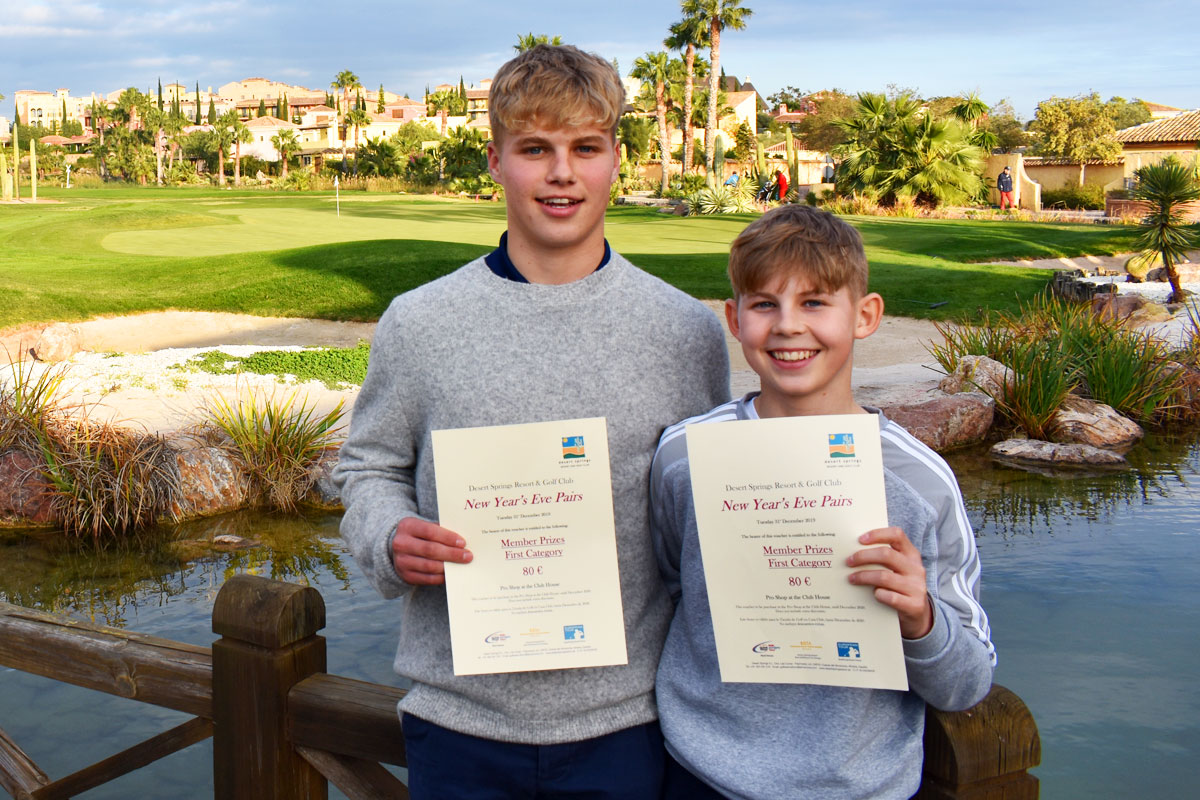 CHRISTMAS INDIVIDUAL STABLEFORD : 26/12/2019
Today we had the pleasure of celebrating our annual tournament "CHRISTMAS INDIVIDUAL STABLEFORD" , on a sunny day with a perfect temperature to play golf.
42  players competed in this Christmas event and all of them have enjoyed the good conditions of our golf course, which has recent improvements in its landscape that make it look even more incredible.
On the podium of this competition, in third place Andrew Markham has scored 35 good points.
Second, Richard Fuller with 36 great points has drawn with our winner today, Roger Butters, who has won a much-contested victory.
Congratulations winners! And thanks to all the participants!
(In the picture, Richard Fuller, second classified: Roger Butters couldn´t collect his prize for personal reasons.)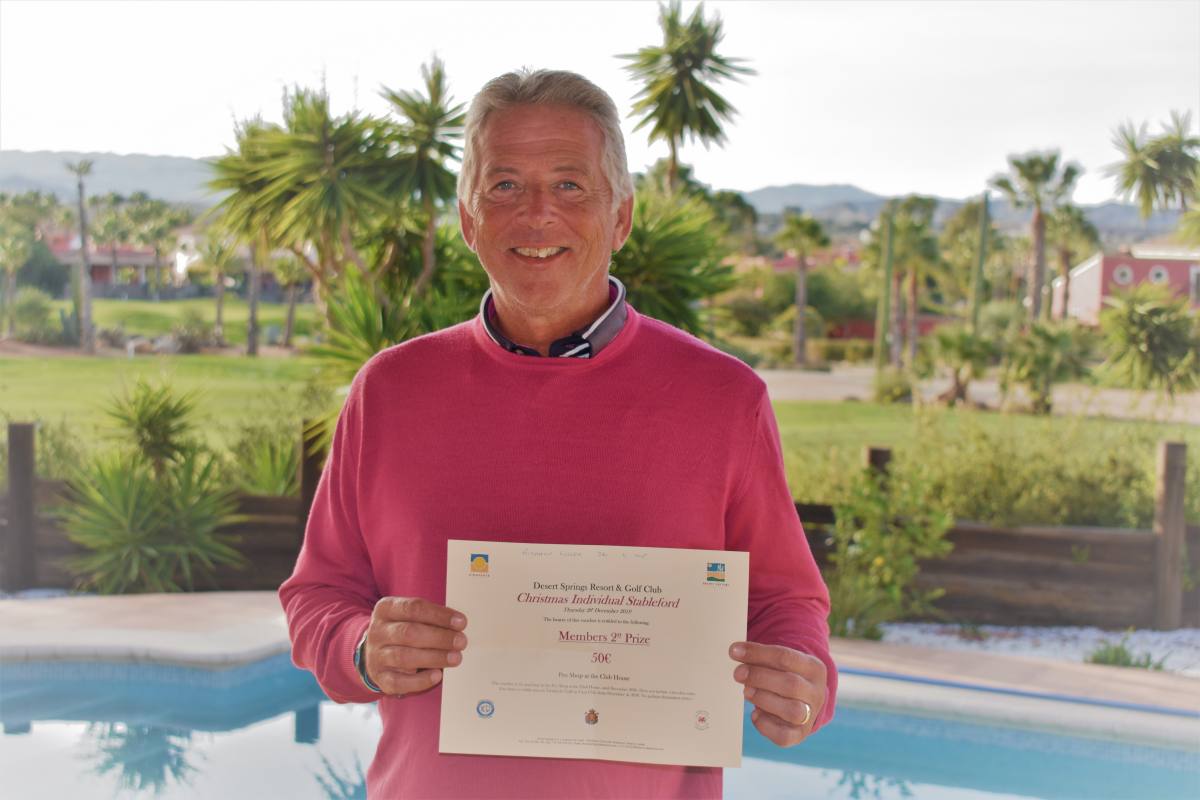 THE CONSTITUTION CUP : 06/12/2019
Today, 37 players competed for the Constitution Cup on the beautiful Indiana Course,  that after these last days rains, was looking in excellent conditions and everyone has enjoyed it a lot.
Interestingly in the annual edition of this tournament, the winners of the previous year, both have revalidated their title.
In the men's event, Chris Mear emerged victorious with a really good round of 76.
In the Ladies category, Brenda Clark-Whittle was crowned champion with a great round of 78.
The awards ceremony took place at The Deck of the restaurant at the Club House and the atmosphere has been fantastic.
Many thanks to all the participants and congratulations to the champions!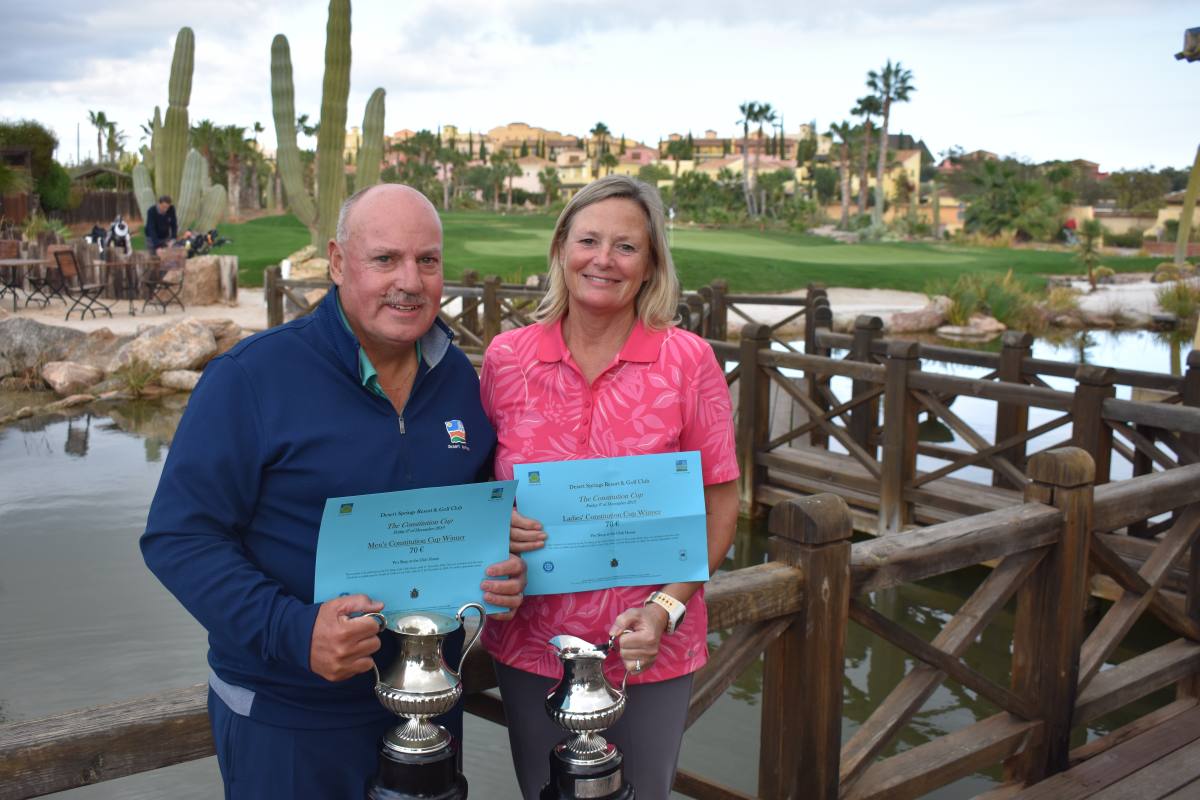 THE PRESIDENT´S CUP : 12/11/2019
On a traditionally sunny, calm day on 12th November , 2 days after the European Tour Qualifying School was at Desert Springs, so the the course and greens were playing exceptionaly faster than normal!
54 players competed for the "presidents Cup" after a closely fought contest, many congratulations to this year's winner, Gina Roberts with a fantastic , 36 points.
Edging irina Burnham, by way of countback as they tied on same score.
Thanks to all who competed, a great turnout!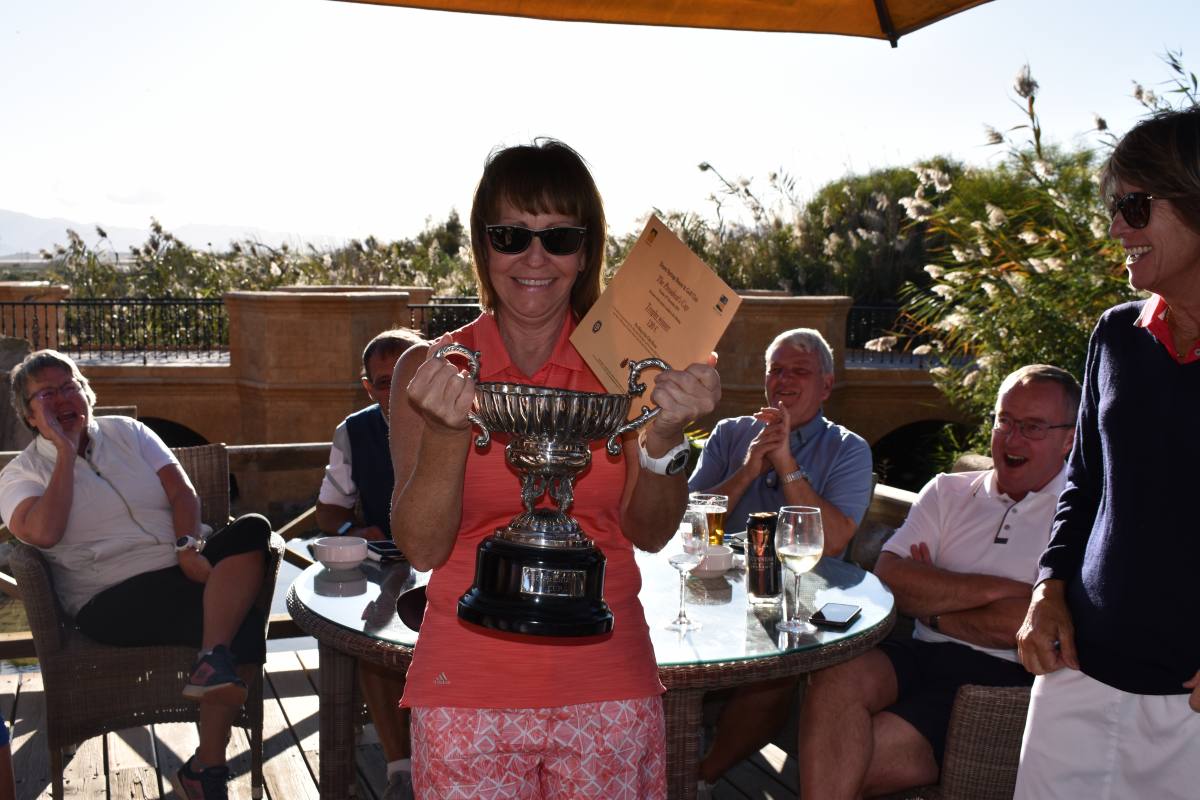 PAST CAPTAIN´S TEAM CHALLENGE : 27/10/2019
Today 29 players have played the Past Captain´s Team Challenge.
A really nice sunny morning welcomed the players, for this event held in the beautiful Indiana Golf Course.
The 'Richard Fuller Team" consisted of former captain Patricia Deraedt, William O´Halloran, Jaki White and Francisco Medina took home the honors of the day.
The presentation of the award was held at El Torrente and was presented by committee member Barry White.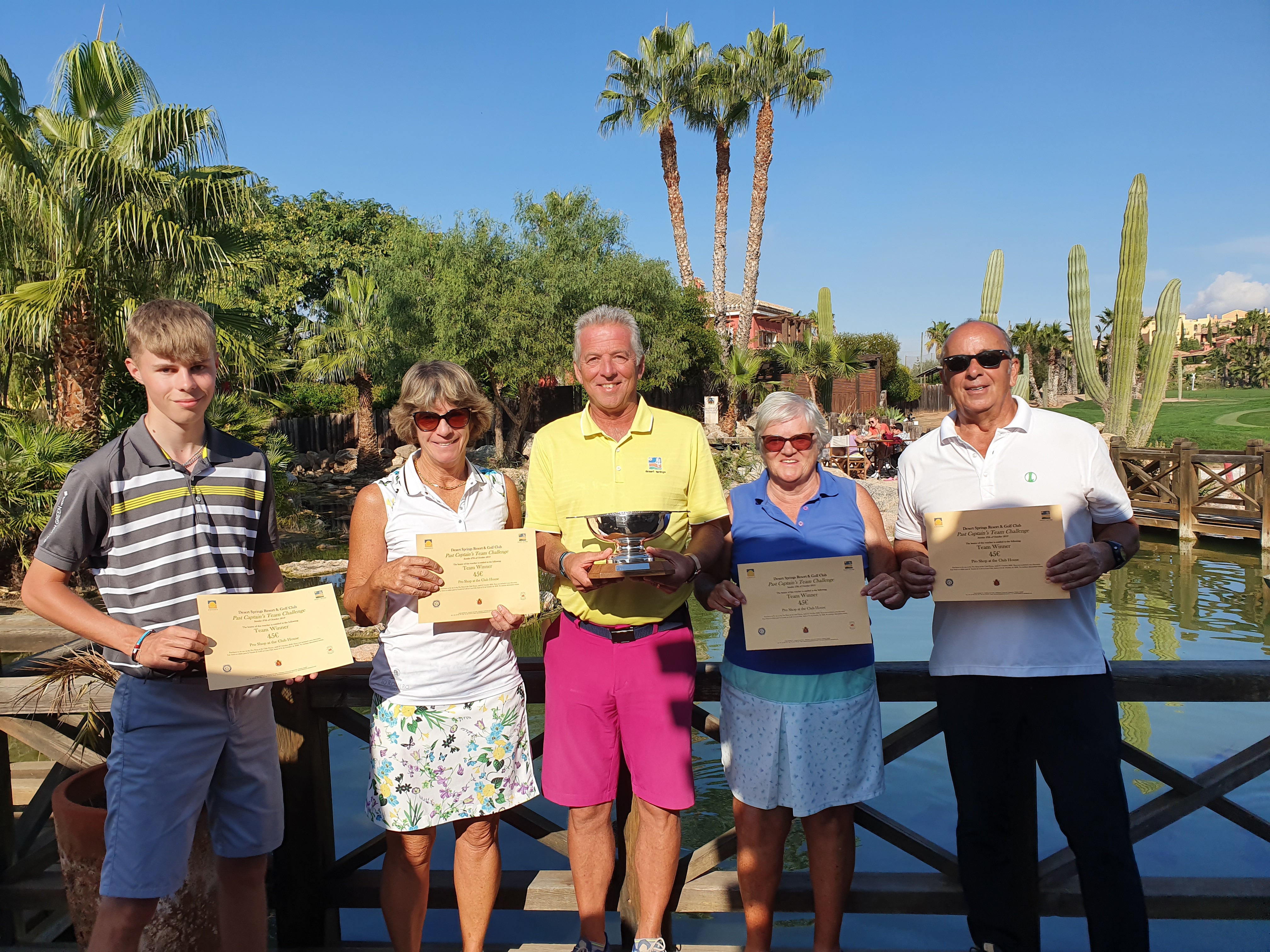 AUTUMN TROPHY : 26/10/2019
Today we hosted the Annual tournament, "AUTUMN TROPHY". 
The participation has been good with 32 registered players, who have enjoyed a beautiful and warm morning of golf, where the skies have been clear and the course has looked in very good condition.
The modality has been stableford and in third place David Garnett has achieved 38 excellent points in a very good performance today.
Second-ranked Richard Toll has achieved also 38 points, playing greatly another more week in a row.
And the winner of this autumn competition has been Lee Coxon with an amazing score of 42 points!
We would like to congratulate the winners and thank all the participants for their collaboration in the good environment and the fun of this federative event.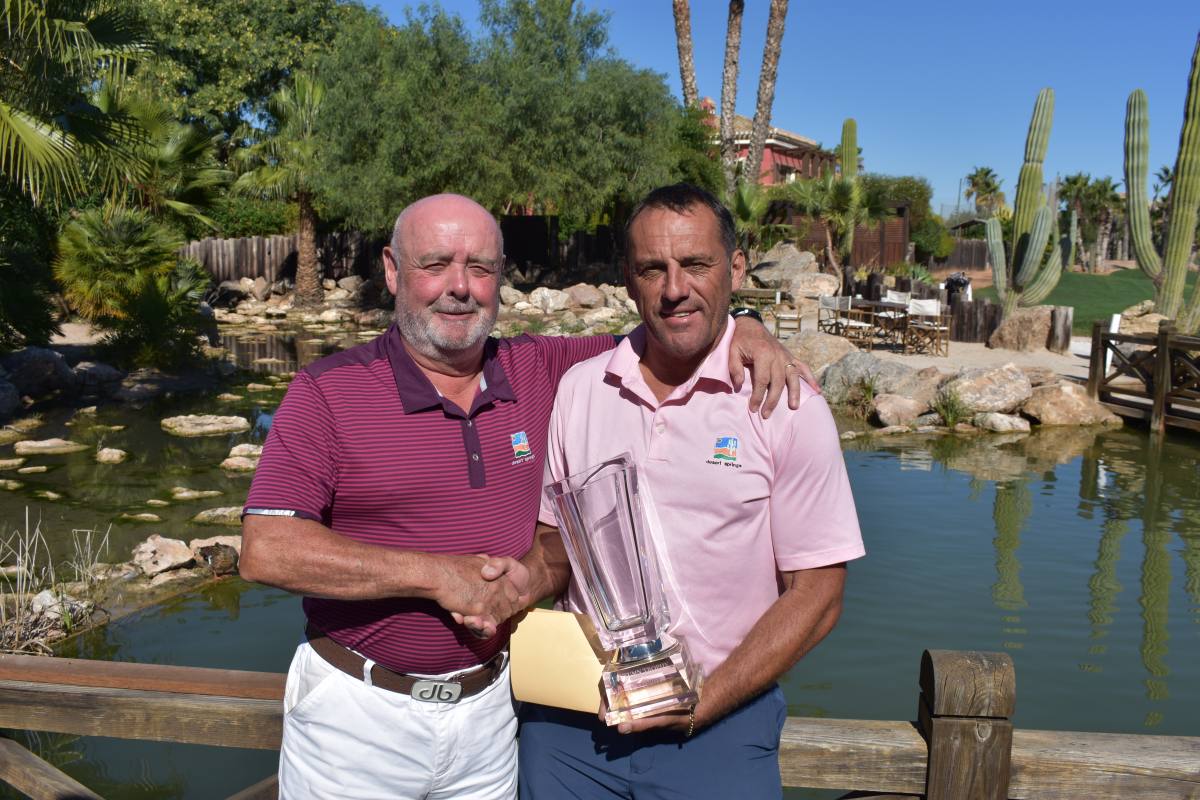 THE CLUB HANDICAP SALVER : 19th & 20th OCTOBER 2019
A total of 17 men and 3 Women contested this weekends 36 hole Club Handicap Salver.
Glorious sunshine beamed down on Saturday, and a few light spots of rain appeared briefly, on unusually murky Sunday, which had no effect on the Golf!
Many congratulations to Susan Kenny, Our 2019 Women's Champion (for the 3rd Time)!
With a total net score 154. And Men's Winner, Richard Toll with net Total 141, who has won 2 events back to back now!
Fantastic consistency and stamina to both winners, well done!
CAPTAIN'S CHARITY DAY : 12/10/19
A record 26 teams (104) players competed for the Captains Charity Texas scramble event this weekend.
With the course in ever improving condition and slick greens, it was a closely fought contest, that came down to the wire! The spoils and congratulations go to the team of : Rory & Elizabeth McCartney, and Robert & Margaret Allison with a smashing net score of 56, edging the tied score team of Simon Cox,  on virtue of countback.
A fantastically successful Charity Weekend ending with a hugely enjoyable Prizegiving dinner and singing and dancing! Many thanks to all the competitors and those who contributed to raising over €2000 for the local mental health Charities!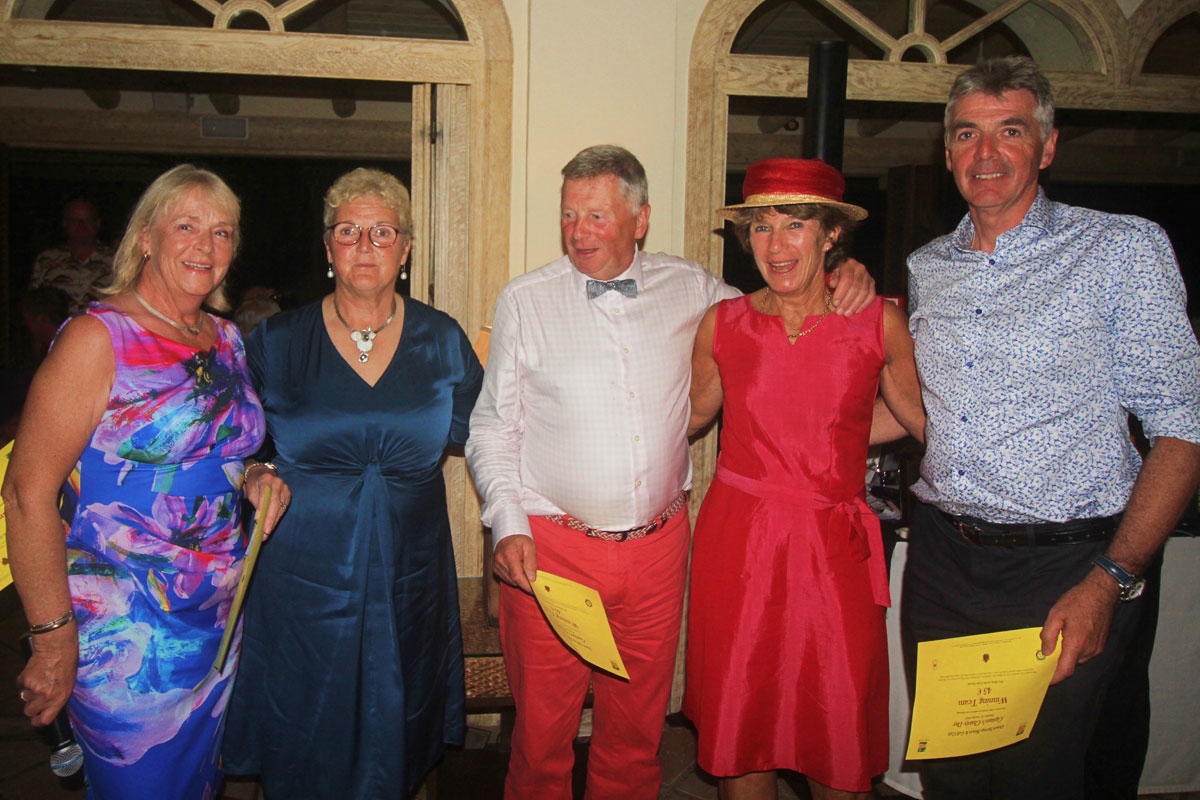 DESERT CLASSIC
: 05/10/19 and 06/10/19
This weekend we enjoyed the two-day "DESERT CLASSIC" tournament in which 32 players have gathered in Desert Springs.
The good weather and the most typical heat of the summer, have accompanied us during both days and the state of the course has been very good and not to mention the excellent condition of the greens.
In the total ranking, in third position Brent Clark-Whittle has achieved a great 70 points, they tied the second-placed with the same points, Roger Butters with a great performance as well.
And many congratulations, to our winner, Richard Toll with a brilliant 73 points!
We thank all participants for their attendance at this event and look forward to seeing them at our next tournament.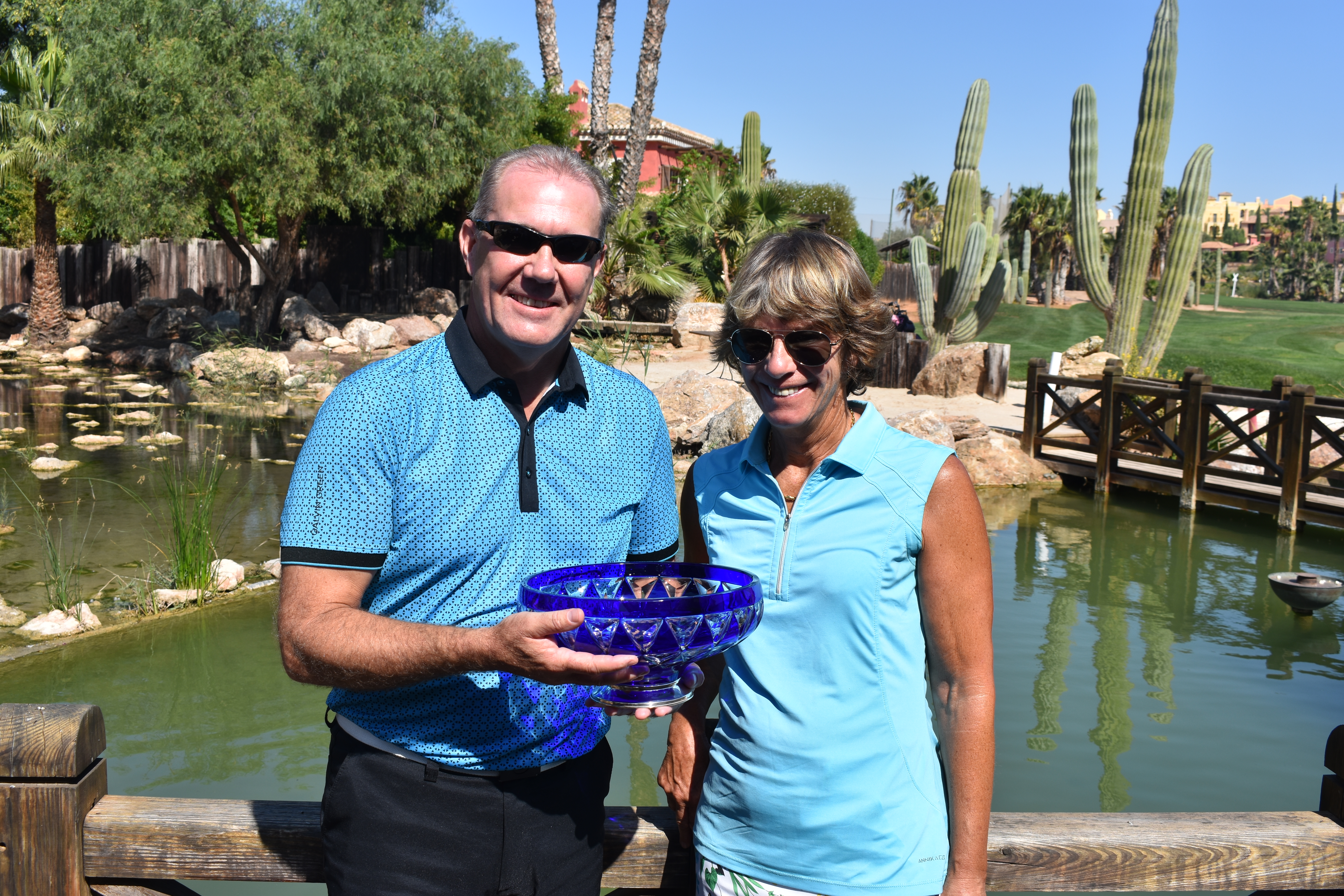 PROFESIONAL´S CHALLENGE CUP
: 28/9/19
This morning in Desert Springs we held the tournament "THE PROFESSIONAL'S CHALLENGE CUP".
On an autumn day but with a clear sky and higher temperatures more typical of a day of summer. 
We have had a pretty good registration of 44 players for this always fun and attractive game mode.
The course has looked great and even more so and as is always usual the state of our greens, in a spectacular state.
In this edition, of 22 couples, 7 of them have beaten the couple formed by the professional Malcom Lacey (also golf operations manager of Desert Springs) and by the captain of the Club, Patricia Deraedt.
The winning pair of this event has been the one formed by Philip Angus and David Smith with a formidable performance, getting a brilliant 43 points.
In second place they have followed closely David Hinton and Dennis Stafford who with 41 points have grazed the victory.
And in third place the marriage and sports couple formed by Jim and Linda Kendall has achieved a very good 41 points.
Congratulations to the winners and a thousand thanks to all the participants.  See you at the next tournament!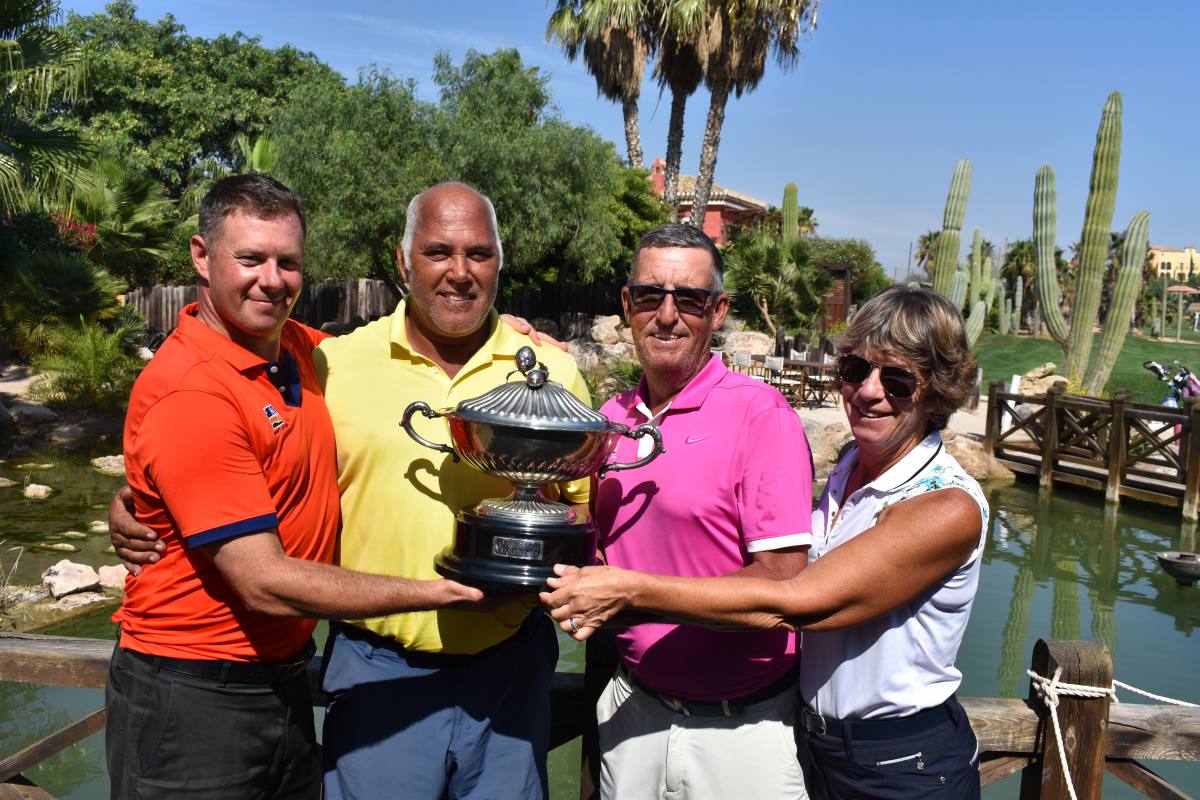 SEPTEMBER GREENSOMES
: 21/9/19
This Saturday we celebrated the funny and challenging "SEPTEMBER GREENSOMES" tournament in Desert Springs!
We have had a very good participation with 22 couples who have struggled to win a much-contested victory.
The course has looked in very good conditions and the weather has also been good for the enjoyment of all the players who have had a great time.
The winners, in first place, were the pair formed by Richard Fuller and Ray Charles with a great 42 points, tied with the second couple, Brenda Clark-Whittle and Brent Clark-Whittle, who have scored the same points!
In third place, the pair of players Susan Kenny and Leo Kenny have added 40 very meritorious points.
Thank you very much to all the participants and see you in the next tournament!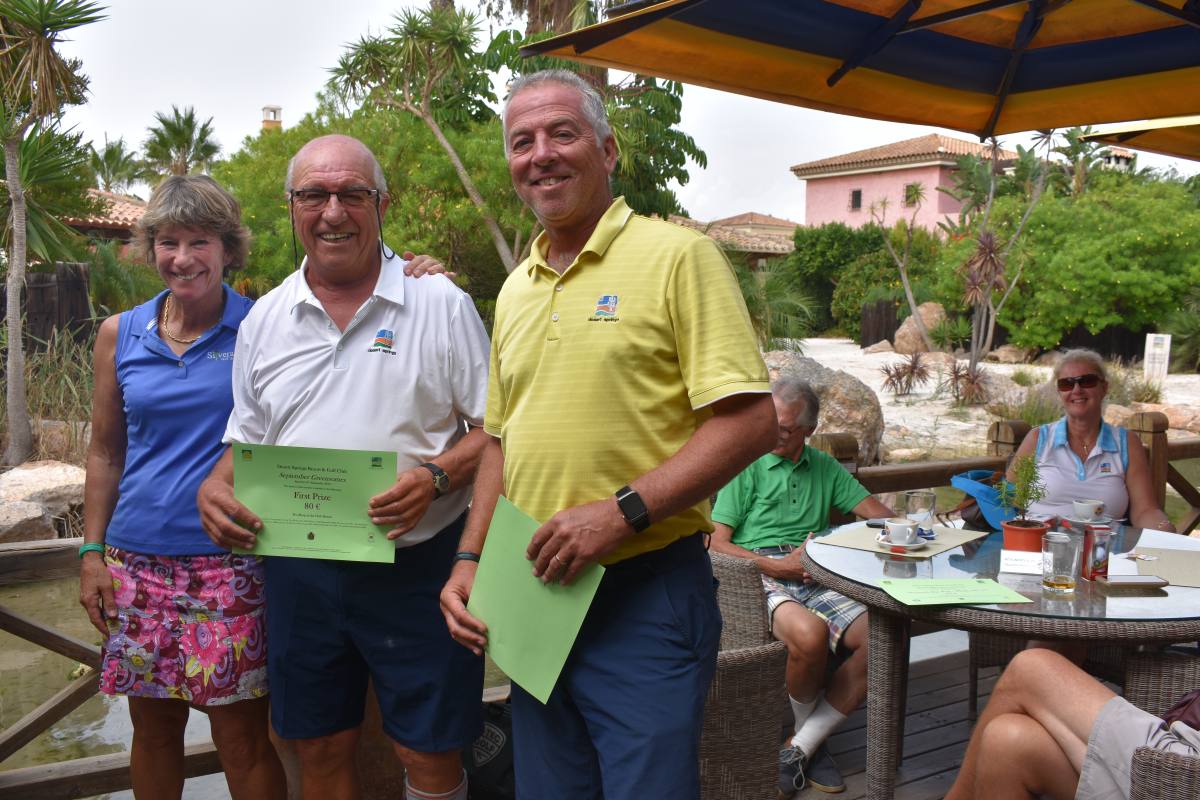 SEPTEMBER STABLEFORD
: 7/9/19
This first Saturday of September on a morning wet and clear and with the field freshly watered by the rain this past morning, 26 players have gathered in our club to contest the SEPTEMBER STABLEFORD.
It was a tournament with very good performances, notably that of our winner, Philip Angus who has scored some brilliant 38 points.
Graham Cook has been second with 36 points and Richard Fuller third with 35 points both also performing a great game at a very good level.
The awards ceremony has been held on the terrace of the Club House, with everybody enjoying a very relaxed and pleasant atmosphere.
Many thanks to all the participants and see you at the next tournament on Saturday, September 21st!
THE FLAG
: 24/8/19
Today we have enjoyed the always funny "The Flag" tournament!
An entertaining and challenging modality that has brought together 24 players on a hot and beautiful summer day.
The course has looked excellent, especially our greens and the participants have really enjoyed this competition.
With 68 brilliant shots, in first place David Hinton has risen with a meritorious victory, followed very closely by Freddie Beames with some great 73 shots and in third place Mahmud Ali has achieved 73 shots. 
Congratulations to the winners and a thousand thanks to all the competitors! See you at the next tournament, "September Stableford", on Saturday, September 7th.
AUGUST STABLEFORD 
: 17/8/19
An expected beautiful day and Golf course presentation was provided for the 24 strong mixture of Spanish and Uk members and guests competing for the August Stableford tournament.
It was a tight contest, but with a sizzling score, as hot as the weather, Ian Watson prevailed with a fantastic 37 points, closely followed by Ali Mahmut, & David Smith both returning 35 points.
Congratulations Ian and thanks for all who competed!
SUMMER CHALLENGE CUP
: 10/8/19
Today we hosted the "Summer Challenge Cup" event with a participation of 32 players who have enjoyed a hot August day and the spectacular conditions of our golf course!
We have had a good harmony between the many Spanish and English players who have played this summer challenge.
In the overall standings, the absolute winner of this tournament has been Chris Mear with a spectacular 39 points, followed by David Hinton with other brilliant 37 points in second place and Wikkie de Graaf with a meritorious 33 points in third place.
Thank you very much to everyone who has participated and congratulations to the winners!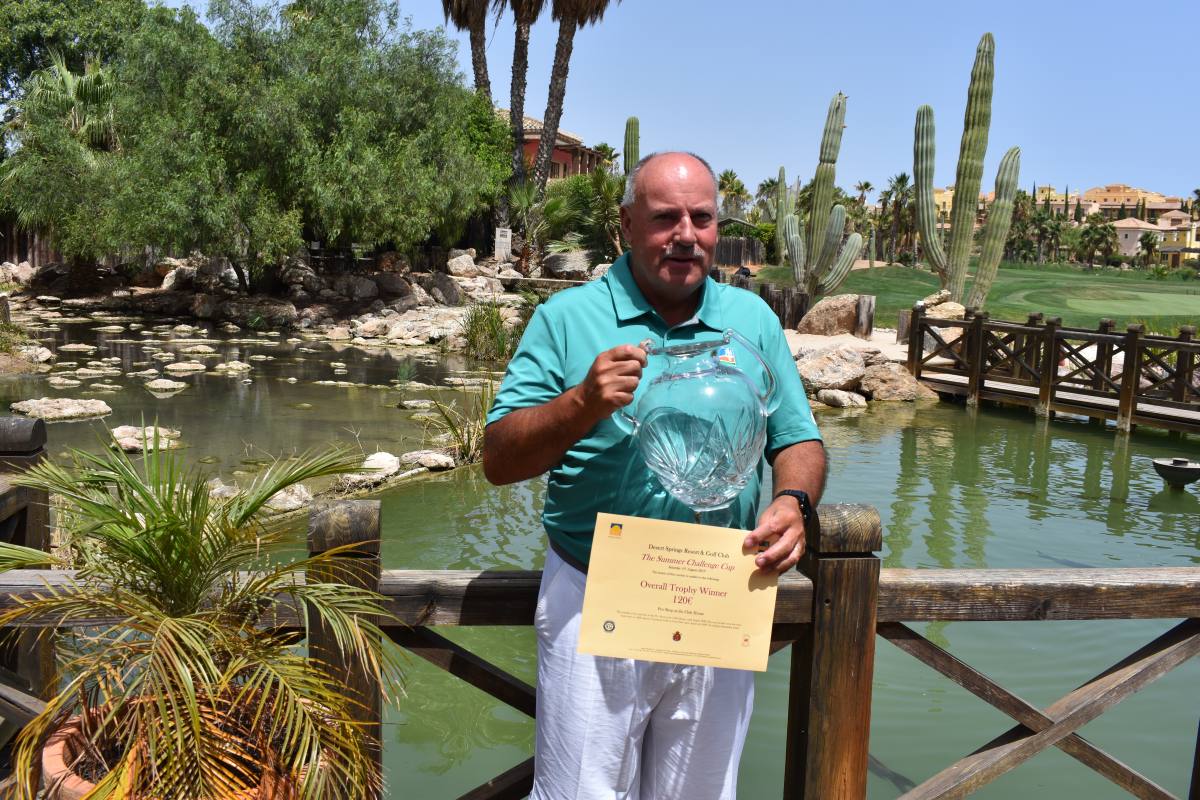 JULY STABLEFORD
: 20/7/19
Spectacular very hot and sunny day at Desert Springs where 26 players have played the July Stableford Tournament.
Despite the high temperatures, the course in spectacular condition and the perfect greens, it has been of great enjoyment for all of them.
With a brilliant 41 points, David Hadden has been the absolute winner of this event, closely followed by Chris Mear, a great player who has scored 38 points playing with handicap 4!
In the all-out Paul Taylor tied for points with Chris, he was third with a great performance.
Many thanks to all the participants and see you on August 10th in the next competition!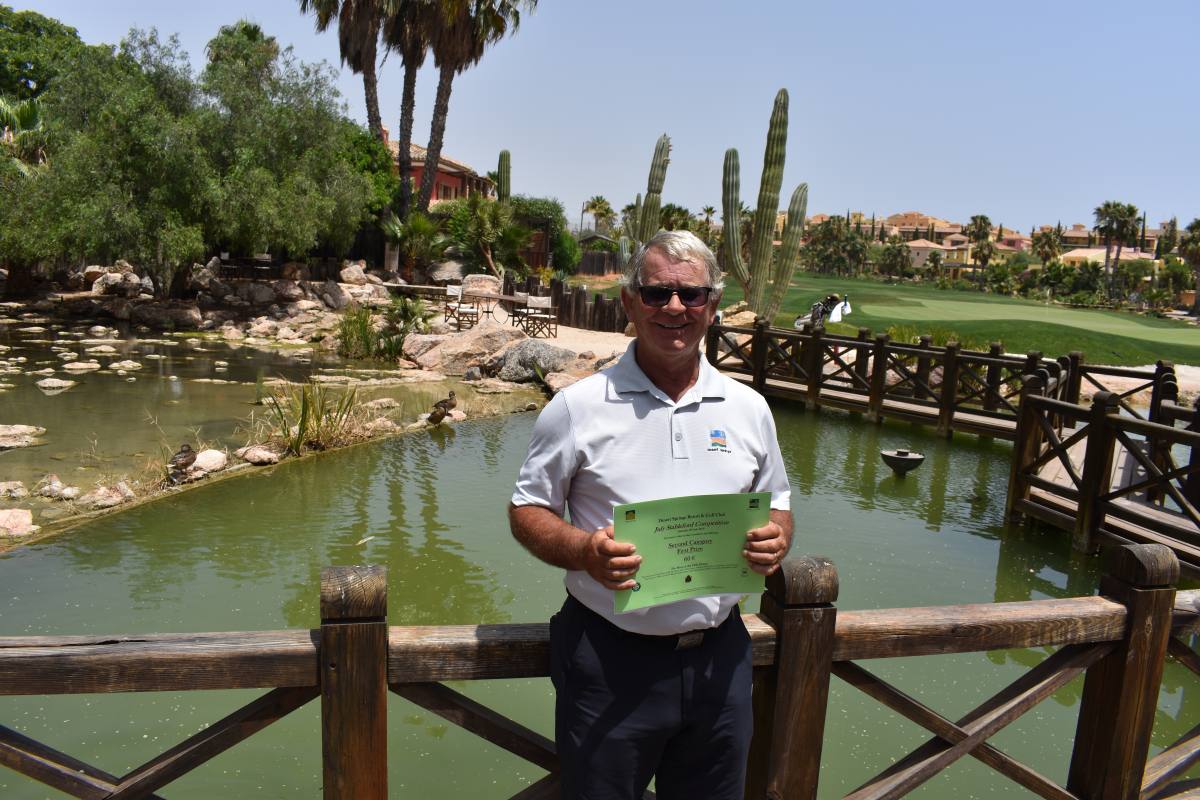 DESERT SPRINGS MED-FORD
: 13/7/19
On a typicaly Warm, pleasant Saturday in July, we had a field of 23 players bidding to win the fun Medford tournament.
In a sizzlingly tight contest, our young Superstar,  Charlie Mckinnes took the honours with a fantastic total score of 40 points, edging  runner up Ian Watson on 38 points, and Duncan Boston close behind on 37 points.
Many thanks to all participants!
JULY MEDAL
: 06/7/19
Today we celebrated the July Medal in Desert Springs!
17 players have fought for a very difficult victory, which has been for David Hinton with a great 68 shots, followed by very close second-placed Chris Harrison with a good 71 shots. Third place went to the young Charles McKinnes with a meritorious 72 shots.
It's been a very hot, humid day. Climate that made it difficult to always approach a "medal" modality.
But as always all the players have enjoyed the excellent conditions of our golf course and the atmosphere has been familiar and fantastic.
Many thanks to all the participants and congratulations to the winners!
3 CLUBS & A PUTTER 
: 22/6/19
On a hot day of clear skies, windless and with a field in great condition, 25 players have gathered first thing in the morning to play a fun and very challenging competition called "3 Clubs and a Putter", which consists of choosing only 3 clubs and a putter to play all 18 holes, just 3 and a Putter!
In such a difficult modality, Dennis Stafford has scored 37 impressive points to claim victory, followed by Mark Butterworth who made 34 and Dee Tomlinson in third place that got a valuable 33 points.
The atmosphere has been perfect and everyone has had a lot of fun,see you at the next tournament! Thank you to everyone who has participated.
The prize presentation was held on the Deck and hosted by Club Captain Patricia Deraedt.
JUNE STABLEFORD
: 15/6/19
In today's tournament we´ve had 20 players who have enjoyed a peaceful, warm and sunny day of golf.
Also have for sure enjoyed our course, in great shape with greens in an impeccable condition.
Susan Kenny has won with a very good 36 points, in a very tight competition, followed by Jaki White and Anthony Clemments, in second and third position respectively, both with 35 points.
Many thanks to all the players for participating and see you next Saturday in the "3 CLUBS & A PUTTER" tournament.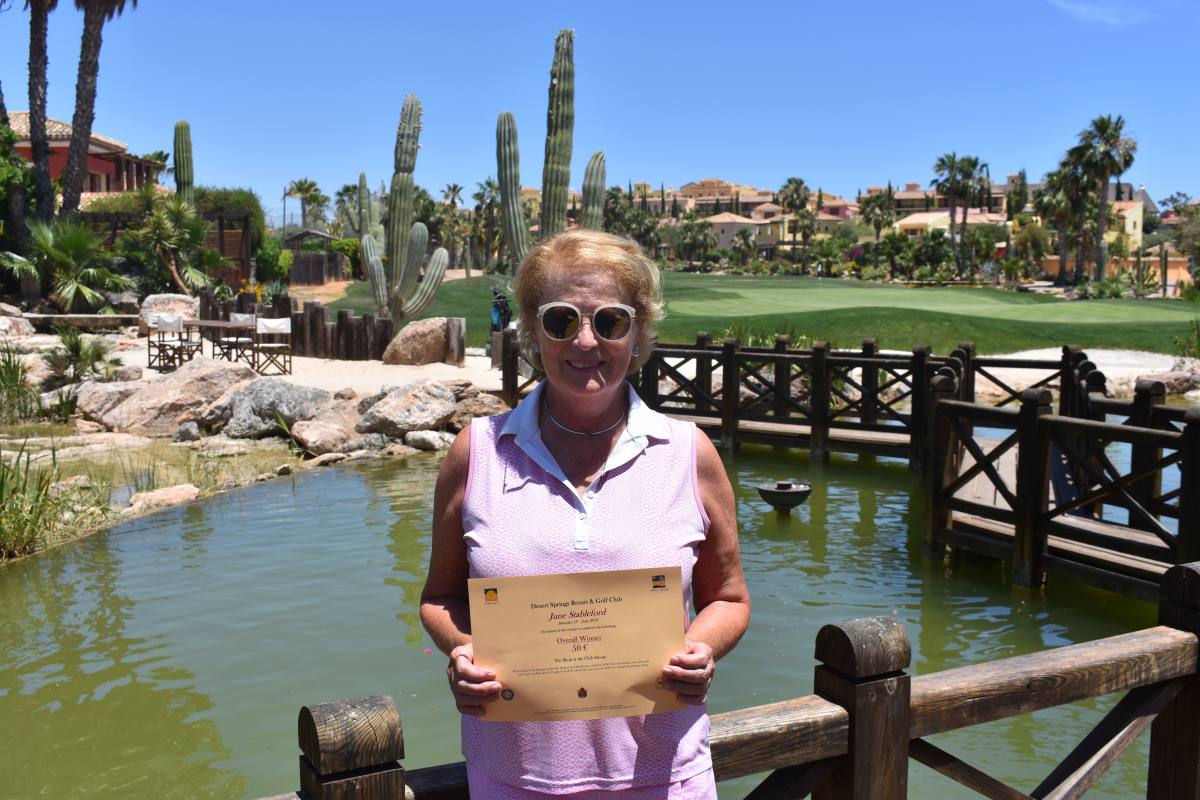 DIRECTOR'S TROPHY 
: 1/6/19
Today we had a participation of 28 players who have played the DIRECTOR´S TROPHY on a beautiful sunny day with a great temperature!
Many players have commented on the excellent conditions of the golf course and so have all enjoyed this day in a phenomenal atmosphere.
A very disputed tournament in which our member Mahmud Ali, has risen with the victory with a fantastic 39 points!
Followed by Jim Kendall and Philip Lockyer in second and third positions respectively with 37 points.
A thousand thanks to all who have participated and congratulations to the winners!
MAY MEDAL 
: 18/5/19
Eleven players signed up to play on Saturday 18th of May for the May Medal Tournament.
As usual the weather was fantastic along with the condition of the course.
A close competition, but no surprises, Chris Mear edged victory with the same score of 71 as Stuart Baynham, but claimed victory as the lowest handicap.
Congratulations to all who participated.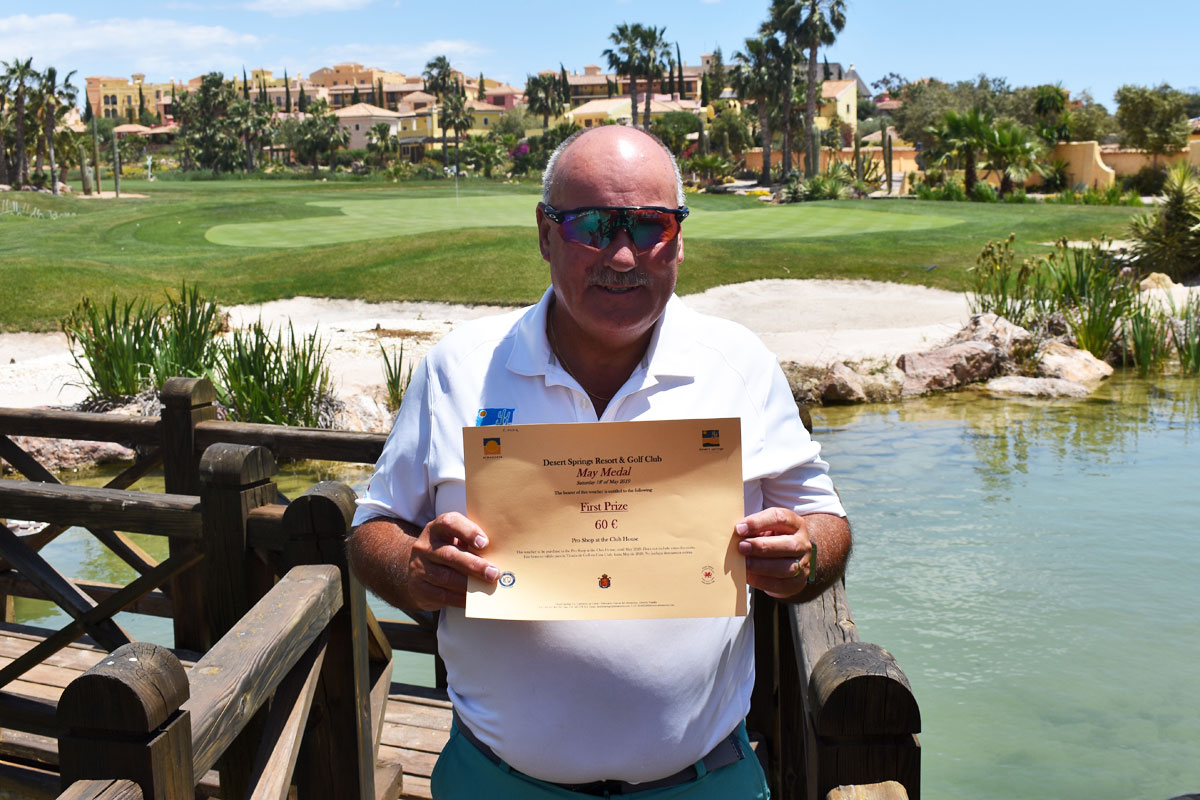 OPEN PAIRS TOURNAMENT 
: 11/5/19
On a lovely hot day, we had 18 teams paired up to compete towards the Open Pairs Stableford Tournament.
It was a close contest but congratulations to Chris Mear & Evelio Alonso who won, with a fantastic 45 points to beat Roger Butters & Freddie Beames by one point on 44 points.
Thanks to everyone who participated.
MAY STABLEFORD 
: 4/5/19
A lovely day and ever improving course conditions on Saturday 4th May to compete for the May Stableford event, and a fantastic 36 players turned up.
Congratulations to Kirby Garrod, with a fantastic score of 40 points, edging victory from Jim Halpenny , a close runner up on 38 points.
Thanks to all who participated!
THE EASTER CUP 
: 21/4/19
A great field of 56 players turned out on Easter Sunday to contest for this years Easter cup.
In rather bleak conditions, but fortunately dry, a magnificent performance by Nicola Watson returned a 39 point winning total, to claim victory by just 1 point over Steve Gray, and Phil Webster in 3rd place with a very commendable 36 points.
Congratulations Nicola, and well done all who participated!
THE CAPTAIN'S DRIVE-IN 
: 19/4/19
A fantastic turnout of 22 teams entered for our new Captain, Patricia Deraedt´s charity Scramble event on Friday 19th April.
With the weather forecast for rain, we were blessed to have escaped with a mere faint short drizzle!
It was a closely fought contest, with the winning team of Roger Butters, Michael Wherlock, Chris Harrison & Andrew Lee returning an impressive 55.7 net score edging victory by 0.7 of a stroke from runners up : Phil & Shona Lockyer, & Mark and Sue Trasler.
Many thanks to all competitors, and  for all who contributed to over €2,000 for the very worthwhile Charities.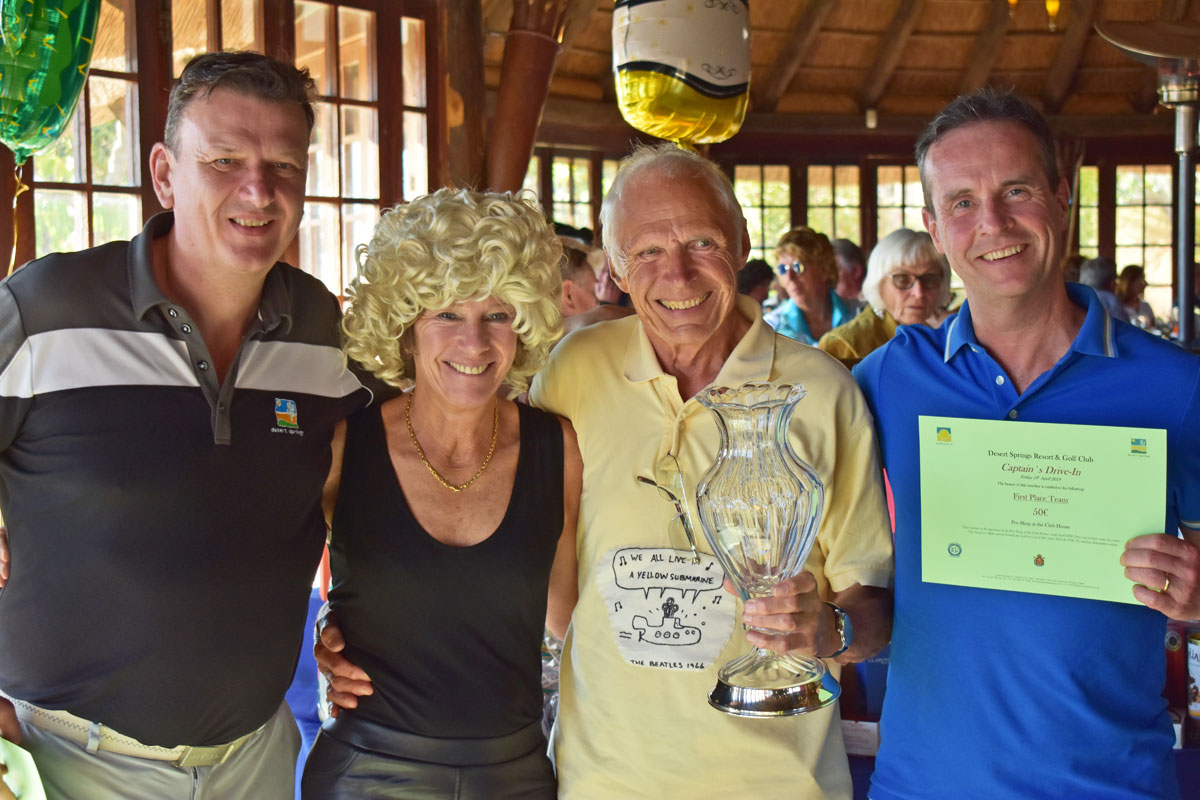 THE CLUB CHAMPIONSHIP & STABLEFORD
: 16-17/4/19
14 brave players boldly put there names forward to compete for this years 36 hole Club Championship trokenplay from the Alternative longer course.
Front runners Chris Mear, Alan Paterson, Rory McCartney and Chris Cole were closely knitted together after round Wednesdays 1st round , but no surprise, it was Chris "The Rock" Mear who prevailed from the other hopefuls to claim top spot with a 2 round total of 163.
Second Place Alan Patterson on 174 , and Rory McCartney 3rd with 178.
On Thursdays Club Championship Stableford event, a strong field of 45 players strolled the beautiful emerald fairways of the Indiana course, with intent.
On normal sunny conditions, and a light afternoon breeze, it was a very tight contest indeed, and  it was Lee Coxon who prevailed on 36 points, narrowly edging Howard Taylor on countback as they tied score.
Barry white claimed 3rd Place and a winners share, just 1 point behind with 35 points.
Many thanks to all who participated!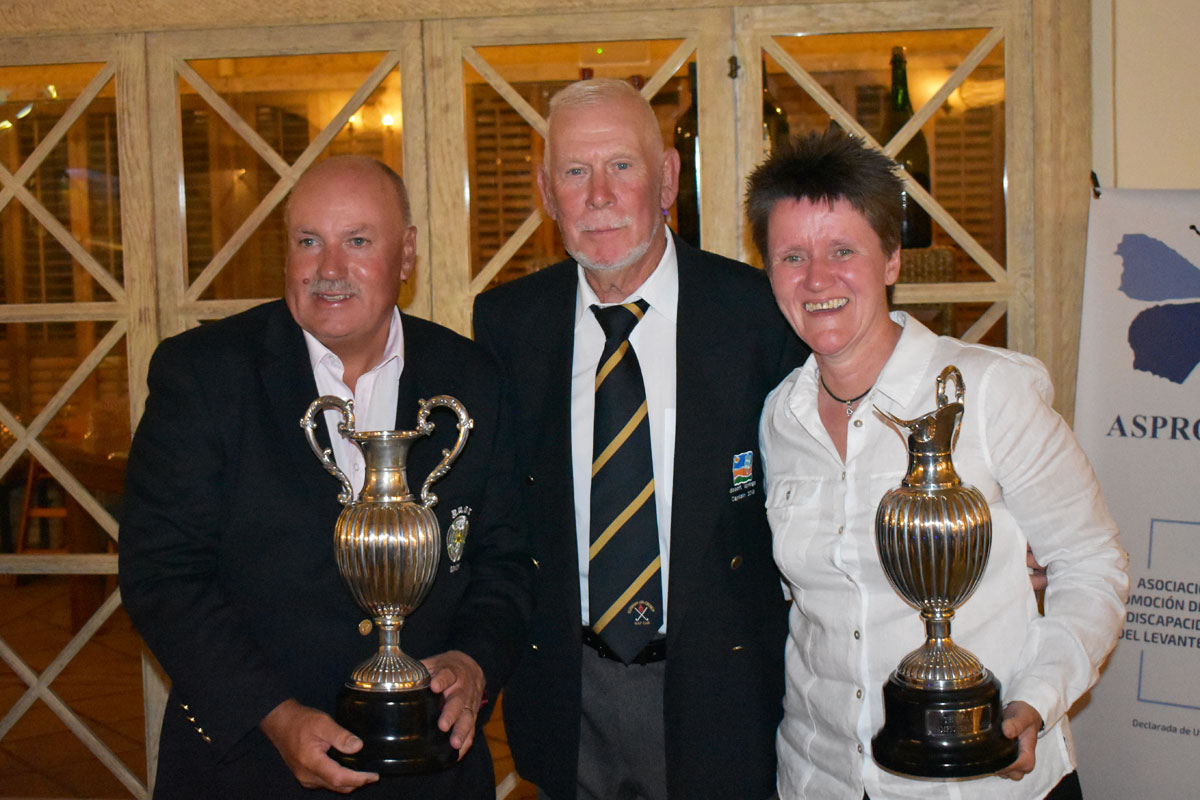 INDIANA MASTERS TOURNAMENT 
: 6-7/4/19
On Saturday 6th and Sunday 7th April,  The Indiana course was presented in beautiful condition and
the stage was set to contend this years Indiana Masters.
Blustery conditions maintained on both days, which was troublesome for all to contend with. Phil Webster held strong on Sunday to win after Saturdays early clubhouse lead of 40 points, to finish on 67,  and edge it by the finest of margins from Chris mear, Steven Gray, & Sue Wood on 66 points.
Many thanks for a fantastic turnout of 46 players and well played again Phil!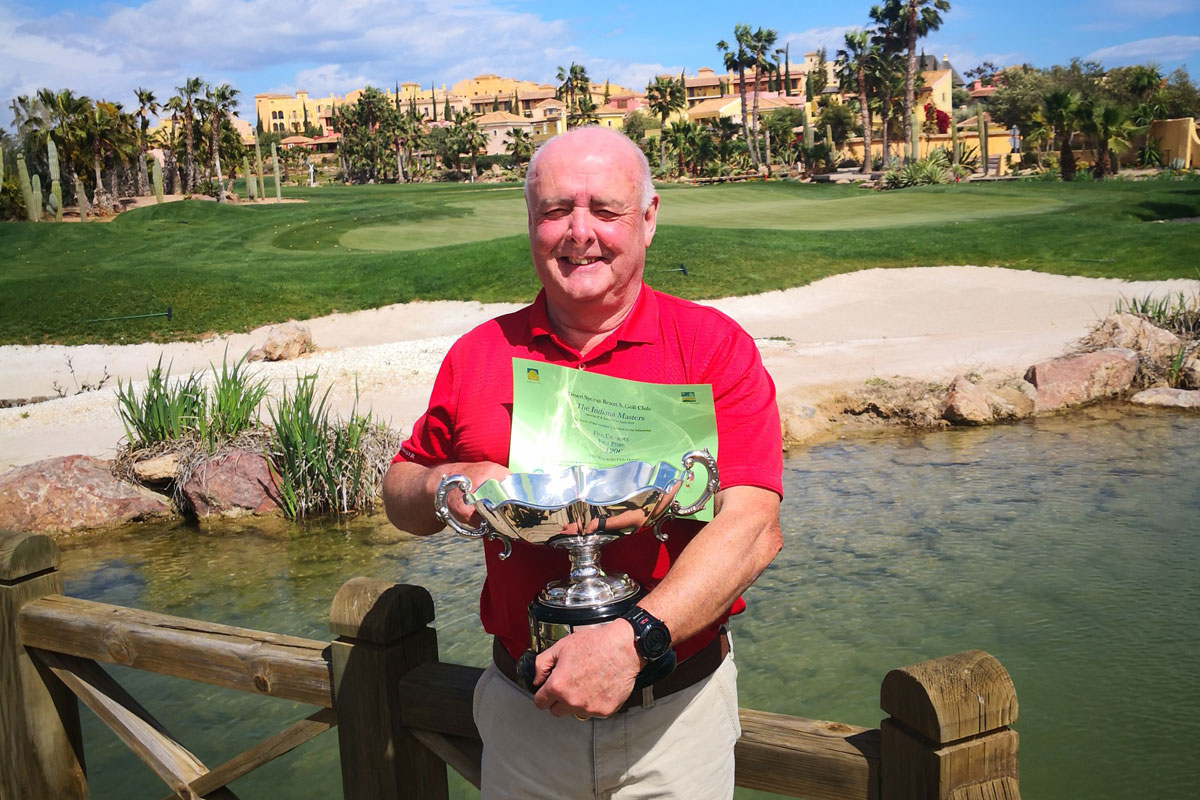 MEMBERS ECLECTIC TOURNAMENT 
: 30-31/03/19
A mixed bag of weather to content with this weekend for this years Eclectic strokeplay event, to see who had the consistency and grit to win over 2 rounds.
22 players started on Saturday, with Ali Mahmud setting the pace with a magnificent net 68.
However it was all to play for on persistently wet Sunday, and many congratulations to Patricia Deraedt for braving the elements and improving by a fantastic 15 stokes on Sunday, with a  combined total 141,  to win by 2 shots over Ali Mahmut (143),  and a great performance from David Smith on Sunday landing him 3rd Place on 144 total.
Well done to the "14 Musketeers" who battled Sundays elements to finish the event!
ST. PATRICKS DAY BOWL TOURNAMENT 
: 17/03/19
A fantastic turnout of 42 competitors on St. Patricks Day Sunday, hoping for the luck of the Irish, to take home the crystal trophy.
Alas there was unfortunately  just one player who took the trophy home, the Prolific, Chris mear!
Chris just pipped the local, Jose Antonio Vasquez, by virtue of countback, as they tied on 36 points.
Many thanks & congratulations to all who participated!
MEMORIAL DAY TOURNAMENT : 9/03/19
A great turnout for the Memorial Day tournament on a warm Spring Day at Desert Springs with the Golf course presented in great condition for the event.
With a heavily contested field, and tight scoring in the Stableford Format, Duncan Boston edged victory over Dennis Stafford on countback, as both players tied on 37 points.
Thanks to all who participated!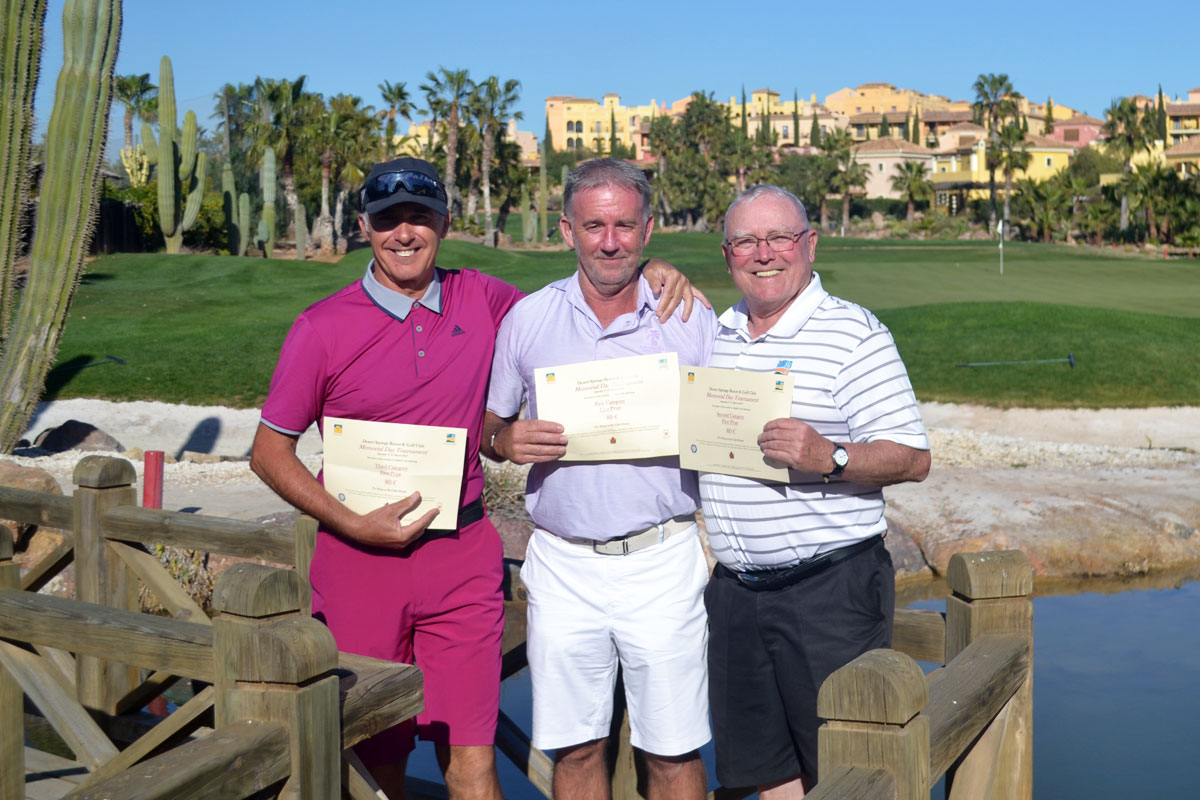 DESERT SPRINGS WALTZ : 2/03/19
A beautiful day for contesting the Desert Springs Waltz on Saturday 2nd March.
A field of nine teams competed with the aim to score the highest stableford score possible, to claim the top Spot!
Congratulations to the team of Eric & Dianne Biggs, and Zeta Denyer for being the runaway champions with a total of 82 points! Runners up Richard Fuller, Duncan Boston, and Phil Angus with 71 Points. Well done to all.
ANDALUCIA DAY TOURNAMENT : 28/02/19
A fantastic turnout of 41 players for the Andalucia Day tournament on thursday 28th February.
On slightly breezy conditions in the early afternoon, but the sun still smiling, Denise Mear reigned supreme, with  an impressive 41 points stableford.
Closely on her heels in the runner up spot, was David Hinton with 38 points, and Chris Mear 3rd with 37 Points.
CARNIVAL SCRAMBLE : 23/02/19
10 Teams Gathered on Saturday the 23rd February to put their collective scoring boots on In a bit to shoot the lowest combined score to win the Carnival Scramble! On near perfect conditions on the Golf course and Weather, the Team of
Chris & Denise Mear, Eric & Dianne Biggs ruled supreme with a fantastic score of 53.6!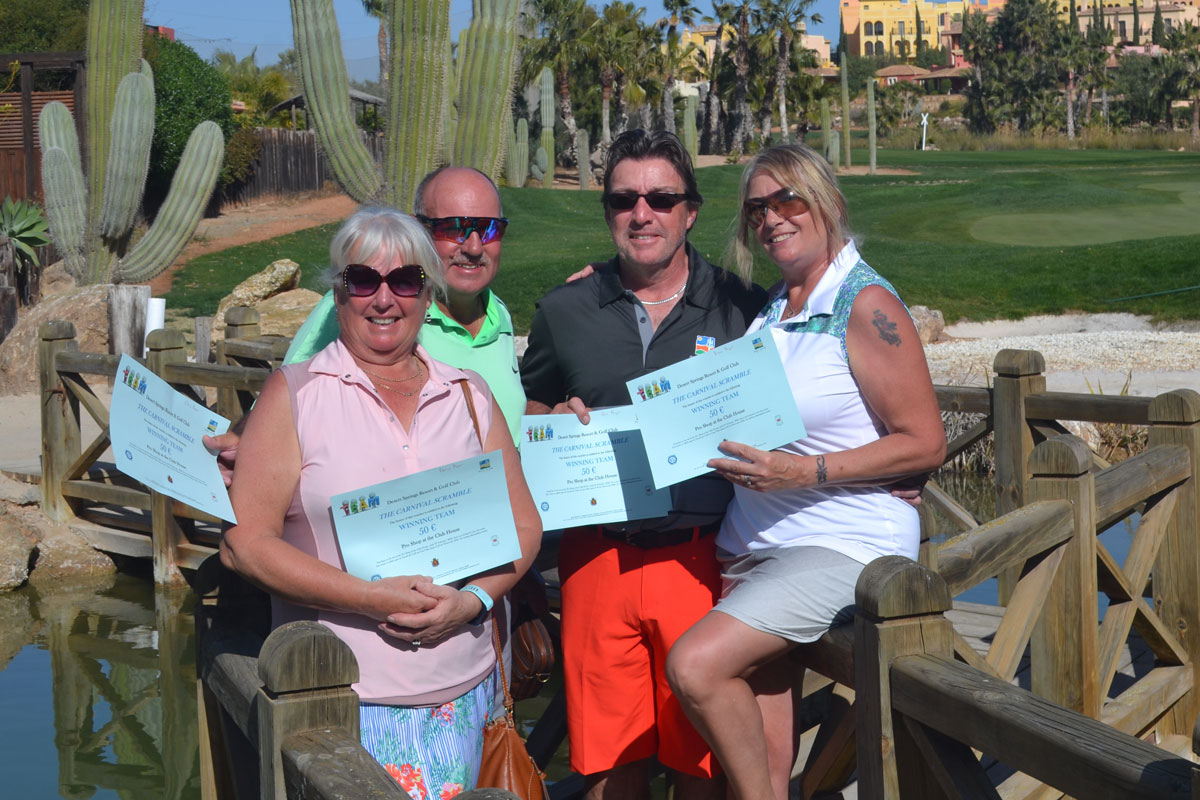 DESERT SPRINGS OPEN CHAMPIONSHIP : 09/02/19 – 10/02/19
30 players took to the fairways to compete for The Desert Springs Open Championship which was played over two rounds. The Indiana Course was presented in fantastic condition and the weather for both tournament rounds was absolutely delightful.
Chris Mear was crowned champion golfer of the year with a great combined stableford score of 75 points. Runner-Up went to Chris Cole on 68 points (by virtue of lower handicap) from Evelio Alonso.
The prize giving ceremony took place in on The Deck and was hosted by Club Captain John Haydon.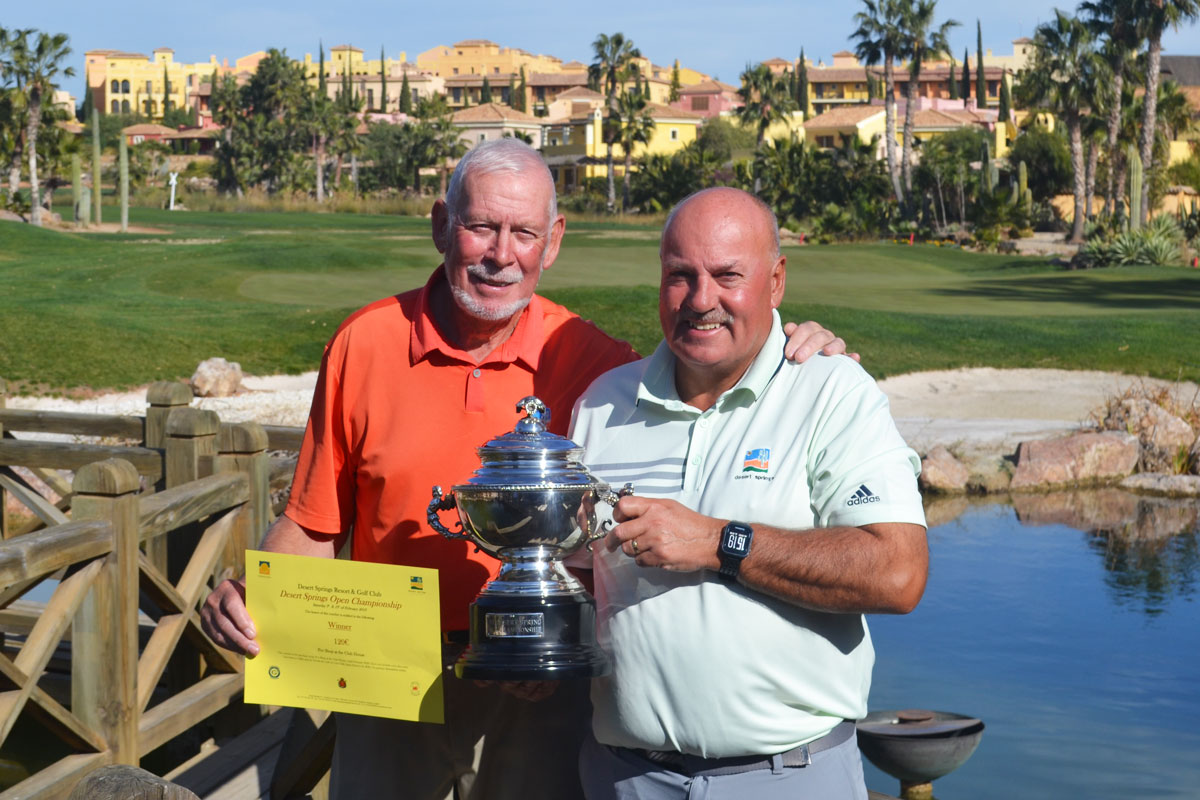 THE EPIPHANY CHALLENGE : 06/01/19
A great field of 47 players took to the fairways for The Epiphany Challenge which is traditionally held on Three Kings Day, the 6th January.
The Indiana Course was presented in beautiful condition, being bathed in glorious sunshine for the whole event.
Young Charlie McKinnes proved a very popular winner of his first 'Major' and was crowned champion with 38 points (by virtue of lower handicap) from Runner-up Roger Butters. Third place went to Liz Shutlar with 34 points (by virtue of lower handicap) from Kirby Garrod.
The prize giving ceremony took place in on The Deck and was hosted by Club Captain John Haydon.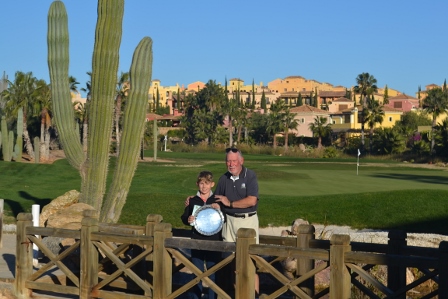 DESERT SPRINGS COMMUNITY TROPHY : 4/1/19
The Community Trophy kick-started the 2019 tournament year in style with 33 competitors taking to The Indiana Course which was presented in beautiful condition. The format is that of a team event whereby the respective communities of the resort compete in a stableford tournament to claim the title as the best Community in Golf.
The combined communities of Desert Drive, Sweetwater Island Drive, and La Rosa formed one team and came out triumphant to be crowned winners of the first event of 2019. Congratulations to all players.
The prize giving ceremony took place on The Deck and was hosted by Club Captain John Haydon.
Archived Tournament Reports